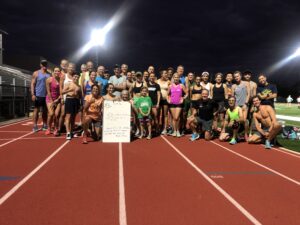 Hi Runners,
11/9 @ Riverview High School (off of Proctor Rd)
11/16@ Riverview!!
11/23 @ Riverview!!
11/30 @ Payne Park
So, you can see we got Riverview. Check your email if something changes – or Strava, Suncoast Milers to make double sure about location. With time change it's going to be dark on the track, bring flashlights please.
Workout:
4 x 1200m @ 5k pace; take half the time you run the 1200m in for recovery.
(the workout calls for 5-6 of these 1200's but you need to be in GREAT shape to do that quantity). If you're just getting back into running, then 2-3 of these are just fine. If you've got a decent base of weekly miles in, then 4 x is good. If you're a high achiever and want a longer wo, then 5-6 of these.
You need to finish the last 1200m a little faster than the first one. So if you're struggling finishing the 4th 1200m then you went out too fast. If you run the 4th 1200m 15 sec. faster then you ran the previous 1200's then you ran too easy.
This workout is tough. And it's good to do this about 6 weeks from now to see 'where you' are aerobically.
I personally don't like these kind of workouts. But that is what 'friends are for' to help us get through this. Try to not run alone for this workout when we're out on the track. Try to buddy up. Ok?