The race of the year for over 30 years – Bill's Beer Run!
and the Manasota Track Clubs only Fundraiser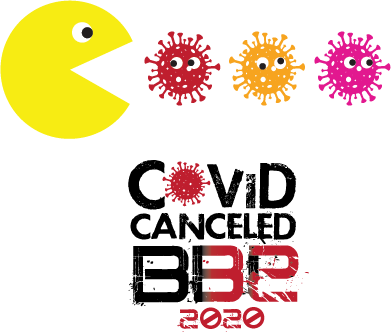 Bill's Beer Run (BBR) is a 5-mile running race that takes place each October along beautiful Casey Key, Fla. The first BBR took place in 1989 (read more about the history), and it serves as the MTC's fundraiser to support its scholarship program, which has awarded more than $90,000 in college scholarships to deserving local student athletes over the last decade or so, as well as the summer beach runs and school running programs in the area.
As proud as we are of the fundraising aspect, it's not the only reason the race has been known to sell out just days after opening registration to club members. The fact is, BBR is the most fun you can have running five miles. Each year has a new theme, costumes are highly encouraged, prizes are plentiful (the race awards go 10 deep in each age group, door prizes abound, and the best costume competition can get fierce), and the post-race dancing, food, and, of course, beer? Legendary.
In addition to the race itself, we also often host a Pub Run Series leading up to BBR, giving members a chance to run together from different bars around the area, win swag, and socialize, all while supporting the club's mission to give back to the community while encouraging healthy physical activity.
Interested in joining us for the next BBR? Be sure your membership is up to date, and watch for notices about registration opening, generally around Memorial Day weekend.
Join the fun at Bill's Beer Run
Only active MTC members with up-to-date memberships will be eligible to register
Bill's Beer Run – History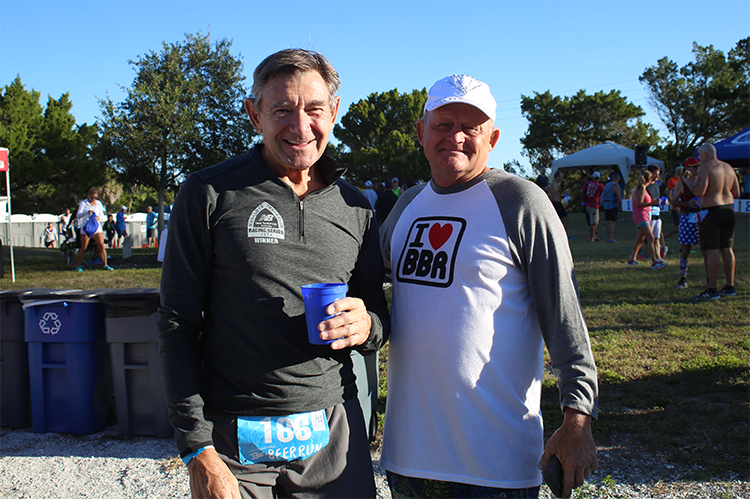 MTC and BBR Buddies: Fred Fiala and Bill Menard
Fred and Bill have been MTC/BBR friends for a long time. Bill, of course, is the founder of Bill's Beer Run and a runner of some reknown for his distance running ability and wins. Fred is a late in life runner but has consistantly been a proud Platinum Plus sponsor of BBR. Fred has been Bill's support crew for the Badwater 136 and ran with him in the Atacama Desert run in Chile.
Early in Bill's tenure with MTC he saw the need for a local running event " why don't we have a race to support the club?" "There are plenty of 5ks and 10ks in the area. We need a longer run like a 15k." " I enjoy having a cold beer with my running friends after a race!" Thus formed the idea for the BBR. "We should also give awards 10 deep in age groups so those who would not normally get an award would get recognition." He felt Casey Key would be the best location for the race. Up and back starting at the north jetties. "We'll include "Beer" in the name to attract attention. It will be an unusual name for a race." All of this proved to be inspirational and has proved to be a winning formula, even with the race distance changed to a five mile race. It attracts a sell out field!
For over 30 years, Bill's Beer Run (BBR) has been one of the area's most popular running events. With just 700 spots available due to county restrictions, registration to this 5-mile race tends to sell out quickly because people know that getting a BBR bib is a guarantee of a great time.
But what many of them don't know is who, exactly, Bill is, and why he has a race named after him — and that's a story worth telling.
The first Bill's Beer Run took place on September 23, 1989, and was organized by Bill Menard, a man who had joined the MTC just three years earlier after going for his first run at the age of 34 (and has been an active member ever since). He may have started his running career later than some, but he held nothing back, twice winning what many consider to be the toughest race in the world, the Badwater Ultramarathon (a 135-mile running event starting on the floor of Death Valley, Calif., in late July; to get to the finish line, competitors must climb the first 8000 feet up Mount Whitney).
There were few local races over 5k or 10k at the time, so Bill included both a 5k and 15k option. Since one of his favorite ways to recover after any endurance event has always been to sip a cold beer and enjoy the laughter and camaraderie of his competitors and friends, he included "beer" in the race name, hoping to encourage the friendly, fun atmosphere he so enjoyed. But just in case that wasn't enough to make people smile, wearing — and running in — costumes was also encouraged. (Bill and his family have remained loyal to the costume aspect, often in attendance in a themed group costume.)
Bill also wanted BBR to help the MTC raise money for its general operating fund, and the race remains the single event that the club puts on for its own purposes rather than other community organizations; the MTC is an official 501c3 non-profit organization, and through the MTC sanctioning process, the club provides the use of its finish line equipment and its volunteer base to help numerous other local non-profits host fitness events throughout the year.
For the first two years of BBR, Bill was the race director and primary sponsor. Registration and race results for the first year have been lost, but we know that in 1990, the race included 5 year age groups from 19 and under to 65 and over. There were 42 females and 73 males in the 5k, and 31 females and 93 males in the 15k for a total of 239 runners.
In 1991 the race provided $2,500 to the MTC. It also became part of what was then called the Grand Prix race series that had begun in 1990; it's been a part of the racing series ever since.
In 1992, the committee realized that the number of entrants and volunteers needed to hold a 15k was not sustainable, but they wanted to offer a distance that was over a 5k but shorter than a 15k or 10k in order to attract more runners, and so, the 5 mile race we know today was born (accompanied at that time by a 1 mile fun run). The committee also opted to give awards 10 deep in each age group. This was Bill's idea to provide recognition to runners who may have never received an award. It was an unusual move because no other races in the area were going that deep, and it remains a major attraction of the race. That year's race brought in over $30,000 and has been the go-to formula for BBR ever since.
Only $25/year (individual)
gets all the benefits of membership
Bills Beer Run: T-shirts thru the years!
Coming Soon!
2020 BBR Design /Pub Run Shirts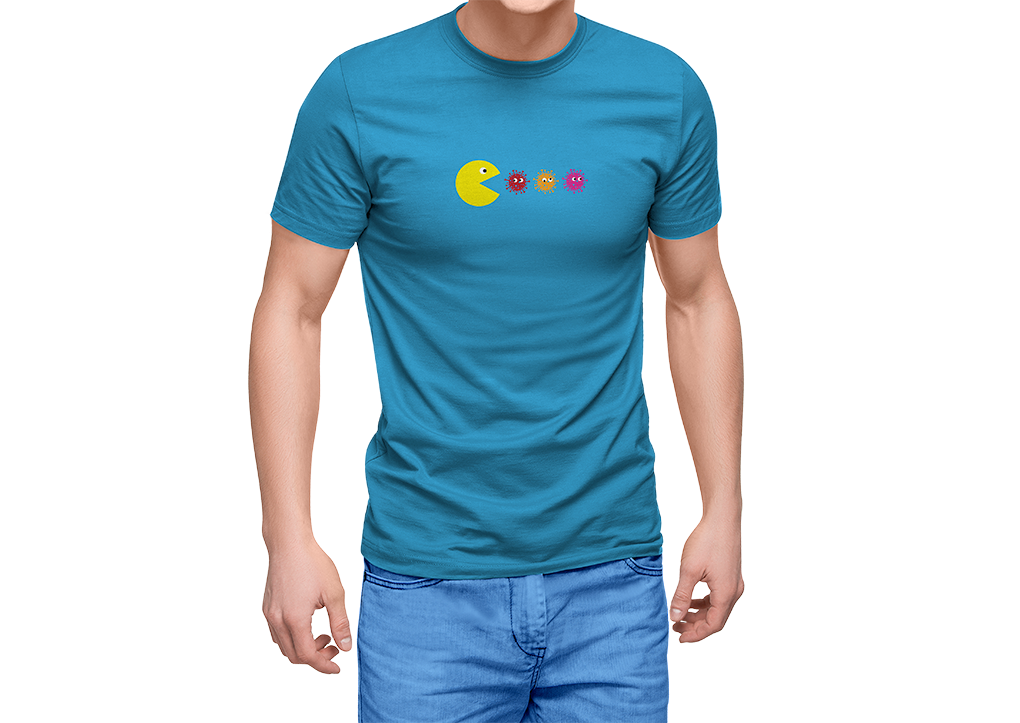 2020
Covid Canceled BBR 2020
Skeleton Crew (Pub Run)